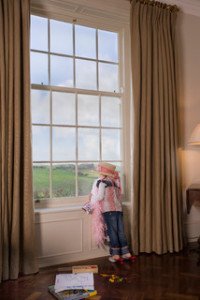 Double-hung windows are classic windows with two sashes that slide up and down past each other. They are very traditional window found in many homes across United States.
The sashes can have snap in grids or grids between the glass that give the illusion of divided lights. I prefer the grids between the glass.
This is where the group actually sits in between the insulated glass panes. This is nice because it gives you the nice look of the grids while allowing for easy cleaning.
With the double hung window you can get a full screen or a half screen. The full screen is nice because you can open either the top or bottom sash for ventilation.
This is perfect if your home has central air conditioner, but if not, you probably want to go the half screen route because this allows the screen to be pushed up when installing those portable air conditioning units in the warm months.
Price Factors
So let's go over what determines double hung replacement window prices . There are four main factors to take into consideration.
Frame: First is the new frame type. Most common are vinyl, wood, fiberglass , vinyl clad and aluminum clad, what you choose will be a major factor in the actual window price itself.
Glass: Next factor is the type of glass, you're either going to have a double or triple pane. Whether the glass has Lowe-E, argon, krypton or nothing is a price factor also.
Options: Next is the options which I touched on a bit before. Things like grids, full screens, night locks, fancy hardware and special glass and screening options like self-cleaning glass and invisible screens.
Installation: Final factor is what type of installation you get. A full replacement window versus a pocket replacement window are two completely different things with very different costs. This is another big factor in the overall replacement window price of a double hung.
The double hung window works perfectly as a pocket replacement window/insert window. This is mainly because it is very versatile. Since these windows can be arranged in several ways they are the perfect choice for replacing those old and worn out windows.
The pocket replacement process is also very simple and quick. You can expect the installers to be able to do 10 to 15 double hung insert windows in a day
"Price Double hung windows and install price? I contacted company named as the worlds largest builder of replacement windows with a very good window according to the experts. These are Vinyl windows.I received a price (there recommended installer) of $700.00 each for normal sized windows (DH) installed! Is this the normal pricing structure for good vinyl windows or any windows for that matter?I would really appreciate answers concerning this. If further info is needed please ask…"
"The truth about the $189 window companies – First of all, nobody really buys Windows for $189 per unit completely installed and completely trimmed. Years ago, these types of ads were called "Bait & Switch". Today they are called "Sell-up" or "Step-up" ads…"
"Single Hung Windows versus Double Hung Windows – Replacing old worn out windows is expensive but necessary.While shopping for windows it is easy to see there are many options. The most popular selections that most homeowner's choose are either a single or double-hung window. Both types of windows will give the same appearance to the outside, but they are function differently. While each window is a great choice, there are many pros and cons for each style."
Manufacturers
Since the modern market is flooded with window manufacturers you can only rely on the reputable ones by reading the reviews online and seeing what others are saying about the. This is not an easy task for there are many manufacturers and typically most people only leave a review online up to have a complaint.
So what I would recommend it to definitely look at a physical sample of the window you're planning to purchase and see how it is constructed. You can also post questions on forums if you are really struggling to find out any information.
There's going to be tons of information out there about the major manufacturers of double hung windows, but that does not mean that there aren't some great regional window companies that make a quality product.
If you have a question about the type of double hung window you should use on your project head over to the Ask The Advisor page or post a question right on our Facebook page.
Tweet