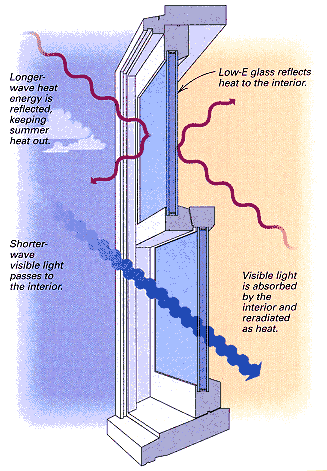 When it comes to home improvement energy efficient replacement windows are one of the top choices of homeowners.
The main reason for this is because replacing them in your home with a new modern one offers one of the best values for your money.
What Makes a Window Energy Efficient?
When it comes to determining a window's energy efficiency there are numerous factors involved.This includes how the sashes and frame of the window are made, the type of glass that is used, the type of coating used on the glass, the weather stripping that is used, and whether or not krypton or argon gas is used.
When selecting you will want to look at the R-value. This is an important number when you are evaluating the different types that are available.
The R-value of the window measures the resistance of the transfer of heat flow through the window. The higher the R-value of the window, the better it is an insulating.
Low-E is a newer advancement in the technology of glass. Essentially, it is a metallic coating that is applied to the surface of the glass. The coating re-radiates and reflects heat energy either out of the home or into the home.
This is dependent of climate conditions. Low-E offers a great way to increase the energy efficiency of any window.
One of the best ways to determine whether or not a window is energy efficient is to look for the Energy Star® symbol. This is a program that was created by the United States government. The program covers all types of products including windows and doors. In order to carry the Energy Star® label a window has to be tested through an independent laboratory and meet specific U-factor ratings that have been pre-determined.
Benefits of Choosing the Best Energy Efficient Replacement Windows
There are many great benefits for choosing some of the modern types that are currently available. Here are just a few of the benefits:
Savings on Energy: It is going to cost at least a couple of thousands of dollars to switch from your old windows to new. However, the initial cost is worth the amount of money that you are going to save on home energy costs.
When you have new windows in your home you will be able to save money in both the summer and the winter. In the summer it will cost less to cool your home as they will not let any cold air escape.
The same goes for the winter, heating your home is going to take much less energy as your windows are more secure. There is a substantial amount of money that will be saved because of this.
Noise Reduction: No matter where you live, chances are there are noises that currently leak through your current windows. When you replace them you will experience a great reduction in noise.
Not only will you no longer be bothered by the neighbors playing their music too loudly, you will also enjoy being able to play your music or have your television up as loud as you want without annoying your neighbors.
Resistance to Weather: If you live in an area that is prone to natural disasters such as hurricanes, tornadoes, dust storms, etc. choosing replacement windows is really an issue of safety. There are new ones that have been designed so that they can withstand wind gusts of up to 155 miles per hour.
Choosing the Best Energy Efficient Windows
There are many available and trying to choose one can be difficult. One of the best ways to help you decide on a window is to read the different reviews that are available online. New efficient windows have features such as multiple gazing, inert gas insulation, as well as Low-E coatings.
Each of these is a part of almost every window manufacturer's product line. Reading the reviews of each line will help you get a better idea of the best replacement windows for your home.
Company websites, online forums, and consumer reports are all good places to start when you are looking for reviews of the most energy efficient replacement windows that are available. Here are some things to consider when you are reading the reviews.
As mentioned above, each replacement window will come with an efficiency rating. The U-factor is considered to be the most important rating to consider. The U-factor of the window should be somewhat low and the R-value should be higher.
This will give you the best idea of how the window will keep your home cool in the summer and warm in the winter. The best R-value for an energy efficient window is either a two or a three.
The other consideration is the types that are available. There are vinyl, wood, aluminium, and fiberglass frames available. Each has their own pros and cons.
Wood and fiberglass frames show little to no loss in performance when they are exposed to different elements. However, this is only in the higher end models.
Vinyl windows have a lower cost. However, vinyl  often leak a bit more air. If you own an older home you may not want to go with vinyl as they come in limited colors and cannot be painted or stained, which means they will appear out of place in your home.
Conclusion
Replacing the windows of your home is a very good home improvement choice. The cost of replacing them in your home may seem overwhelming at first. However, the initial cost of the project will be repaid with the amount of money that you will save on your energy costs.
Take the time to review several different types of energy efficient windows. This will ensure that you get the best windows for the best price.
Tweet