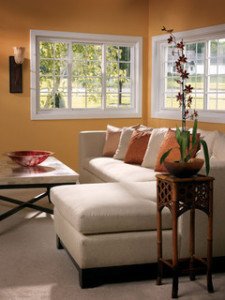 Purchasing replacement windows for your home can be one of the smartest investments you can make as a homeowner.
The problem is if you have never bought them before the process can be a bit daunting. How do you know what type of windows to buy? Or which window company to use?
 Will Replacement Windows Pay For Themselves?
If done right, YES. Let me tell you a quick story about my house. When I bought my house in summer 2005 it had old single pane double hung windows with storm windows original to the house from 1948.
I went through 3 winters here in New England with those drafty windows before I got around to replacing them in Spring 2008. That winter I saved a whole tank of oil from the previous 3 winters and that trend has continued each winter since. Not exactly scientific proof, but, they paid for themselves in just 3 winters and are now paying me back.
How Can They Pay You Back?
There are 2 major ways that new replacement windows will pay you back.
Energy Savings – We touched on this in the previous paragraph with my heating cost savings, but if you live in a warm climate you can also save on cooling cost. Features like low-e are key in keeping your cooling cost down.
Resale Value of Your Home – Story time again… Back when I purchased my home in 2005 I asked the sellers for a $6000 credit at closing for the window replacement cost as I saw it. Guess what, I got it, at closing I received $6000 off the price of my new home. Why? Because the sellers knew that new windows would increase the value of the house.
Now the windows I put in did not cost me $6000 because I am able to purchase them at wholesale cost and installed them my-self, but I knew what it would cost if I had hired someone else do the job.
Some of the Challenges with Buying?
Sales Pitch – Now depending on who you have in your home giving you a replacement window quote will determine how much Pitch is going on. A large window company with salesmen coming to your house will be trained in that company's sales strategy to make a sale right now.
Salesmen – Weather you are getting quotes from a national window retailer or a local handyman working out of the back of his pick-up truck at that moment they are a salesmen trying to sell you windows. That is how they make their living, when you buy.
Technical Jargon – Chances are you don't know what makes one window better than another window, right? It is the technical aspects of the window. Things like low-e, argon, frame construction, air infiltration, U value, R value, DP rating are some of the features that make difference from one window to another.
Qualified Installers – You can buy the best replacement windows ever made but if they are measured wrong, installed wrong or both you WILL NOT be maximizing your energy savings and resale value for you home.
Let The Replacement Windows Advisor Get You Started:
Ask The Advisor – If you can't find the information you are looking visit the Ask The Advisor page and submit a question, you can even attach pictures to your question. Nice Right! We will get back to you in short order.