In the last post we talked about replacement window options and what are the "must have's" and the "would be nice to have" when buying new window for your home.
This post is going to cover Bay and Bow windows, so if you are looking to add or replace one to your house you are going to want to continue reading below.
Bay and bow windows are great features of any home. A bay window projects out from the main walls of the home and forms a bay within the room. Bow windows are bay windows that are curved to create a wider view from the room. Below you will find more information about each type of window and the benefits of having this type of window in your home.
Bay Windows
The bay window is technically a generic term for any type of window that protrudes from the home. Most commonly, a bay window will be square or polygonal in shape. Bay windows that are supported by a bracket or corbel are called oriel windows.
History of Bay Windows
Bay windows have been around since medieval times. In the past, this type of window appeared more as an ornamented addition to the building as opposed to being an organic part of the home. Victorian architecture made bay windows extremely popular. Today, this type of window can be found on almost any type of home.
Benefits of Bay Windows
There are many great reasons to consider a bay window for your home. First and foremost, a bay window will give your home personality. These great windows add a bit of architectural significance to what would essentially be a flat wall.
Bay windows also add square footage to the home. While the square footage may not seem like much, it gives the home a bit of extra space and what can be an extra seating area for any room that the window is in.
Additionally, bay windows provide natural light to the home. These large windows will provide your home with a large amount of natural light, which can be extremely important especially during those long winter months when sunlight is scarce.
[wpipn-related-links posts="199,112,154,160,502,73,960″ ]
Types of Bay Windows
There are many sizes and types of bay windows from which to choose. The typical Victorian Bay window will be angled with three sides. The six foot high window will project about two or three feet out from the wall.
Some of the most elaborate bay windows are featured at the corners of the home and can be embellished with moldings that are decorative.
The size and shape of the bay window will depend directly on the size, shape, and location of the home that the bay window is being constructed on/in. A designer will need to be consulted to work with the homeowner directly to add a bay window to a home. If the home is being newly constructed the bay window can be built in directly.
Bow Windows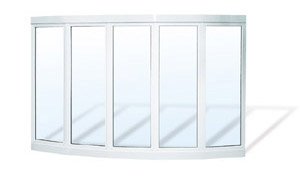 As mentioned, a bow window is simply a bay window that has a rounded shape instead of a square one. The main benefit of bow windows is that they allow more space in the home than the typical bay window.
Benefits of Bow Windows
The benefits of choosing a bow window is that it will give any room added space and natural light. Bow windows can provide any room with extra seating and storage as well as a great view. Curved bow windows can give any home a unique look that is not achieved with a standard bay window as there are no corners of the window protruding from the home.
Styles of Bow Windows
There are many different styles of bow windows available. Most manufacturing companies offer several different styles from which to choose. There are sizes that will meet every need for every home.
Adding a bow or bay window to a home can add great value. These windows provide the room with a great amount of natural light and they look absolutely gorgeous.
Got a Question?
We try to cover as much as we can in our post, but there is always more as everybody's situation is different. If you need some help we would love to hear from you, visit the Ask the Advisor page and fill out the short form.
Or check out our Facebook page and post your question right on the timeline, just "like" page and post your question and you will be notified once we answer. Pretty neat, right. Also include pictures if you have them this really help us to best serve you in our answers to your question.
Next Time
In the next post we are diving into specialty windows. Windows like ovals, octagons ans half rounds. So if you have a need for a specialty window you are going to want to check out that post.