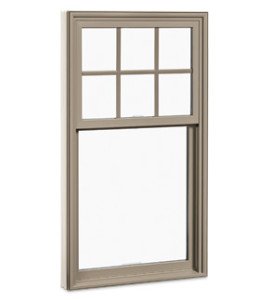 In the last post we covered the average cost of vinyl replacement windows and in this post we will cover fiberglass replacement windows.
Fiberglass is a fairly new material being used for windows. There are numerous advantages of using fiberglass window replacements. Fiberglass does not rot, corrode, or rust and it also holds paint well. In addition, fiberglass offers great insulation properties.
The many benefits of fiberglass are great, but they come with a cost. While the average double hung vinyl window replacement costs around $400 to $575 , the average cost for fiberglass windows can be %50 to %100 higher depending on the company you get estimates from.
Here is a list of the different types of windows that are available and the cost that you can expect if choosing fiberglass as the material.
Fiberglass Double Hung
A double hung window consists of two different sashes and the window works by allowing these sashes to slide both up and down. The sashes can even go past each other in most cases. This is a very popular type of window and can be found in many newer homes.
The double hung window is quite standard and replacement for this type of window will vary based on the type of material chosen. Fiberglass double hung windows costs can range from $600 to $1000 per window installed.
Double hung windows allow ventilation from both the top and the bottom, which is one of the reasons that this type of window is so popular. The great versatility of the double hung window is another great reason to choose this type of replacement window. You can choose fiberglass pocket replacement windows for your home at a lower cost than full fiberglass replacement windows.
Fiberglass Casement Windows
Fiberglass casement windows are a great choice for homeowners that are looking for a replacement window that is energy efficient and offers a unique look. Casement windows attach to the frame of the window by hinges that are located on the side. This type of window can be used in pairs or as single windows with a common frame.
Fiberglass casement windows offer a great choice in window that may cost more, but offer a great many benefits. The average cost for pocket fiberglass replacement windows is $750 to $1250 per window. Full replacement casement windows made from fiberglass cost more. This is quite a bit more than vinyl replacement windows.
Fiberglass Sliding Windows
Fiberglass sliding windows are created in a frame and then installed so that they will slide closed and open instead of opening by a hinge. There are some types of windows that move vertically that are considered sliding windows as well, but are typically referred to as sash windows instead.
There are a variety of sizes of fiberglass sliding windows available. The cost of this type of window will be based on the size. Some large sliding windows can be used for entryways and doorways. Fiberglass sliding windows typically cost around $900 to $1400 each.
Fiberglass Awning Windows
Most fiberglass awning windows are opened using a hand crank. This type of window opens to the outside and the glass acts as a form of protection for the open area of the window. This type of window is best areas where you want some light but may want to have furniture on that wall.
The window can be placed higher on the wall and allows both light and air to flow through the area. They also look nice on top of other windows like double hungs or casements.
Fiberglass awning windows tend to cost around $550. This cost is more for full replacement windows than pocket replacement windows. Fiberglass is a more expensive material to use for an awning window than either vinyl or wood.
Fiberglass Hopper Windows
Fiberglass hopper windows are extremely versatile because they completely open. This means that they are ideal for smaller spaces such as those found in bathrooms and basements. The hopper window can also be used on top of other regular functioning windows to provide more air flow to the home.
When considering the cost of fiberglass hopper windows you can expect to pay nearly $500 per window. If you currently have hopper windows in the home and are only considering pocket replacement windows the cost will be slightly lower.
Overall Costs of Fiberglass Replacement Windows
When it comes to the cost of replacement windows fiberglass tends to be one of the more expensive choices. The reason for this is because it is one of the most efficient materials to use. Fiberglass is also relatively new to the market and offers a material that will not rot, unlike wood. Additionally, the material can be painted unlike vinyl window options.
The overall cost of fiberglass replacement windows ranges quite drastically depending on the window you select and who is installing them. The cost will depend on the type and style of window that is chosen. Installation costs will vary and can add a significant cost to your window replacement.
Got a Question?
We try to cover as much as we can in our post, but there is always more as everybody's situation is different. Especially when it comes to cost, this is all over the board. These numbers are just averages.
If you got some quotes and would like an unbiased opinion on them, we would love to hear from you, visit the Ask the Advisor page and fill out the short form.
Or check out our Facebook page and post your question right on the timeline, just "like" page and post your question and you will be notified once we answer.
Pretty neat, right. Also include pictures if you have them this really help us to best serve you in our answers to your question.
Next Time
We will discuss the average cost of aluminum replacement windows is the next post.