When considering replacement windows, aluminum replacement windows can be a great choice. When talking about aluminum windows there are two different types.
A full aluminum window which is aluminum on the inside of the window and outside. And aluminum clad windows, which has a wood frame with an aluminum cladding that faces the outside.
While aluminum replacement windows are not the most cost-effective form of replacement window, there are many benefits of aluminum windows.
They are extremely durable and are great choice if you live in the area of United States with extreme climate changes.
Typically when talking about residential properties most homeowners will go with the aluminum clad windows, that's not to say that some areas of the country don't use 100% aluminum windows.
Every situation is different and depending on where you live is going to determine the best choice for you.
The Cost of Choosing Aluminium Replacement Windows
When it comes to the cost of aluminum replacement windows, aluminium offers some of the widest ranges for replacement windows. For basic single aluminium windows the cost per window only can range from $200 to $300. Better quality aluminum windows will cost between $300 to $400. The best available windows made of aluminium range in price from $400 to $600. I am talking about typical single window units like double hung, casement, sliding, etc…
[wpipn-related-links posts="433,502,1139,1273,1122,1279,1233″ ]
Replacing your Aluminium Windows
When it comes to replacing your aluminium windows there are several things to consider. Experts state that every type of replacement window comes with both pros and cons. If you have been happy with your aluminum windows up to this point, you may want to stick with aluminium and simply choose a stronger, better quality aluminium frame for the home.
It is recommended that an expert be consulted when replacing windows. This is not a do it yourself project. While removing your old windows and installing new ones may seem like a good idea, it is typically not. It is extremely important to make sure that the windows are installed correctly.
Consider searching for the different types of replacement window info available online. This will provide you with information about the pros and cons of each type of window and will help you choose the right one for your home and area that you live in. Different materials are better used in different areas based on the weather the area has. This is extremely important to consider when choosing your new windows.
Should I choose Aluminum Windows over Vinyl?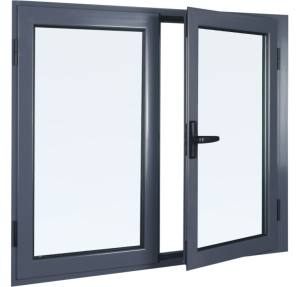 Both aluminium and vinyl windows are good replacement window options. There are pros and cons to each type of window and the one that is chosen will depend on personal taste, budget, and needs.
Vinyl is a flexible material that offers good protection that does not require any maintenance. Vinyl is the most popular type of replacement window for several reasons mainly because of their low cost and ease of care. However, vinyl only comes in certain colors and it cannot be painted. It is also sensitive to extreme temperatures.
Aluminium is more expensive and offers a very durable, lightweight material that is strong. However, it may not be worth the extra expense for all climates. While there a have been huge improvements in how aluminum windows are made, in the past it was not a good insulator and was extremely susceptible to condensation.
The Pros and Cons of Choosing Aluminium Windows
There are several pros and cons of choosing aluminium windows. As mentioned, the durability is one of the benefits of this type of replacement window. In addition, aluminum windows offer a material that is very strong and won't rot. They are also very lightweight.
In addition to the above benefits, aluminium replacement windows also do not require any type of maintenance. If desired, these windows can be factor painted/powder coated to match any décor that is desired. This finish will stand up to even the harshest elements for years. These windows are also very good for larger spaces and offer a very narrow frame and sash profile maximizing glass exposure.
However, these windows come with some downfalls too. First, they can be quite more expensive than vinyl. And the aluminium material can be cold in the winter. In climates that are colder, condensation often forms on the interior of these windows. This has been improved in recent years by top manufacturers,  but your cheaper aluminum windows will have this problem. It is possible to choose replacement aluminum windows that have thermal breaks. These provide insulation between the interior and exterior layers of the aluminium. This will provide greater insulation value, but will come with a higher price tag.
Overall, aluminium has improved over the years and provides homeowners with an alternative option to vinyl, wood, and fiberglass. They are an excellent choice for replacement windows, but just may not be worth extra expense in some cases.