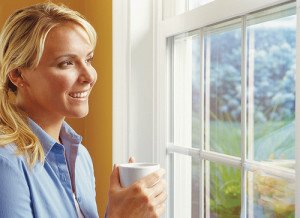 Many home owners are choosing replacement windows as their next big home renovation. There is very good reason for this. Replacing the windows in the home offers one of the biggest bangs for your buck. Here are some of the many benefits of replacing your home's windows.
Energy Savings: While you are going to spend a couple of thousand dollars to swap out the old windows for new ones, the energy savings are worth the initial cost. You will be saving money on both heating in the winter and cooling costs in the summer. You will be able to turn your air conditioner up a few degrees during those hot summer months and turn it down a few degrees during those cold winter months. The amount of money that can be saved by doing this is substantial.
Aesthetics: If your home's windows are older, chances are the paint is starting to chip and it is also possible that the wood may be rotting. New windows offer materials that are more appealing and eye pleasing. There are great new wood replacement windows available that offer better protection than the older versions. In addition, other materials such as fiberglass, vinyl, and aluminum are available as replacement windows as well. Each different type has its own pros and cons. Adding new windows to your home will not only increase its curb appeal, but it will also increase your home's resale value.
Noise Reduction: Perhaps one of the forgotten benefits of replacing your windows is the fact that it will help reduce the noise in your home. New windows offer panels that can help control the noise from the outside. This also means that if you want to turn your music up loud, your neighbors will not be able to hear it.
[wpipn-related-links posts="42,112,81,160,1106,1253″ ]
Weather Resistance: For those that live in areas that are prone to natural disasters, replacing the windows in your home is really a safety issue. New window designs have been created to withstand up to 155 miles per hour wind gusts.
Easy to Operate: When it comes to old windows, one of the worst things is when they become difficult to open, shut, and lock. New windows will provide you with an easier way to open your windows and enjoy the fresh air. Fresh new screens will ensure that the bugs stay outside, keeping your home nice and comfortable all year long.
These are just a few of the many benefits of window replacement, which makes it easy to see why this is one of the home improvements that offers the most bang for your buck. The next question becomes, which windows should be chosen for your home? Here are some things to consider when choosing your new windows.
VIDEO: This is a video by Jeld-Wen talking about some different types of replacement windows. While they are pushing their own brand all major window manufactures offer the same benefits, they may just call them something different.
The Cost of Replacing your Windows
One of the things that you will need to consider is the cost of replacing the windows in your home. It is a good idea to set a budget for the project and try to stick with it if possible. The average cost for each window ranges from $300 to $700. This is the cost if the windows are being placed inside an existing window frame that is structurally intact. Depending on the type of window that is chosen, the cost can go as high as $1000 per window.
The price for replacing the windows in a one story, three bedrooms home that has ten windows can range in price from $3000 up to $10,000. A larger two story home that has more windows can cost between $10,000 up to $20,000 for the entire job.
If a double or triple glazed window is chosen, or windows that are filled with argon gas, the energy savings for the home will increase, but the cost of these windows will be on the high end of the scale.
The cost of replacing windows can increase by as much as 50% up to 100% if the existing window frames need to be replaced as well. The price range for completely rebuilding all of the windows in a home including the frames can range from $5000 up to $40,000.
You can also use this window price calculator for FREE window cost estimates.
What about the Installation of Replacement Windows
It is possible to install your new windows by yourself. Many people that are handy will choose this option. This will lower the cost for replacing your windows by a substantial amount. However, there are problems with doing this type of job yourself. The main issue is that installing windows may seem easy, but if it is not done correctly you will end up having to pay someone to come in and fix the mistakes that have been made.
Installation costs vary based on location, the type of window that has been chosen, as well as the contractor. Many window companies will include the installation costs for the windows in the overall price for the window. Cost for installation may range from $100 per window to the higher end of around $400 per window.
When purchasing consider choosing a company that provides installation services along with the new windows. This will save you the hassle of having to find a contractor to do the installation for you.
Consider the Reviews
Newer windows have become much more energy efficient as features like inert gas insulation, multiple glazing, and Low-E coatings have become a part of almost every manufacturer's line. With that being said, it is a good idea to read the reviews of the different windows that are available in order to get an idea of what type of window will be best for your home.
Consumer reports, online forums, and company websites are a great place to start when looking for replacement window reviews of the different manufactures that are available. There are several things that should be considered as well, this includes:
Efficiency Ratings: Each window has what is known as a U-factor. This is the measure of the window's heat conducting ability. The window will also have an R-value, which is the measure of the window's insulating ability. The U-factor should be lower and the R-value higher as this will give you an idea of the window's ability to keep your home warm during the winter and cool during the summer. The best R-value for windows is around 2 or 3.
Types: Fiberglass replacement windows, aluminum replacement windows, as well as vinyl and wood are some of the types of windows that are available. Both fiberglass and wood frames are great and when tested the higher end models show little or no loss in performance after being exposed to the elements.
Vinyl replacement windows offer a lower cost, but often tend to leak more air. For those with an older home, vinyl may not be an option because they cannot be stained or painted, which will make them look out of place.
Andersen offers Top of the Line Window Replacements
Andersen offers some of the best replacement window options available on the market. The company has been improving window options over the years by increasing the energy performance while maintaining an aesthetically pleasing product. There are several exclusives that you will find on all of the windows from Andersen.
The TruScene® insect screen provides homeowners with a clearer view than the more conventional insect screens that are available. The screens have been designed to let in over 50% more light than the older screens.
Andersen also provides a perma-shield for all of their 200 and 400 series products. This shield protects the wood inside the frame and keeps it from blistering, flaking, corroding, or peeling. It will also resist dents and repels water.
When it comes to increasing the value of your home, you will find that the best way to do this is to replace your old windows. The benefits of new windows far outweigh the overall initial costs. The increased energy efficiency from your old windows will save you tons of money for your energy costs. In addition, your newer windows are going to provide you with a home that is much more comfortable throughout the year.
When choosing replacement windows make sure that you read over the reviews, consider the overall costs, and determine which type of material would be best for the area in which you live. If you take the time to do this, you will choose the perfect window for your home.