In the last post we discussed window replacement frame types and cover the pros and cons of each material available. In this post we are going to dive into the different styles and designs most common in window replacement projects.
There are many different styles and designs of windows available on the market and knowing which one to choose can be a bit overwhelming. It is important to do your research when in the market for replacement windows because the person that is going to try to sell you windows will definitely not have your best interest in mind.
Window salesman are going to try to sell you the windows that they offer and will not care whether or not it is the right window for your home or your budget.
The following information will provide you with guidance of the most popular styles of windows used for replacement that are available and the pros and cons of each type.
Double Hung Window Replacement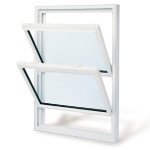 Double hung windows are great for a number of different architectural styles. This means that they will likely work with any style of home that you may have, whether it is classic or modern.
There are a number of colors, styles, shapes, and sizes, making the double hung window quite flexible. They are also made in most of the common materials including wood, vinyl, fiberglass, and aluminum.
Double hung window replacement offers a lot of options as they are a natural fit for several architectural styles. Perhaps the greatest feature of them is that both the upper and lower sashes each function independent of each other.
This allows you to open them either from the top or from the bottom or both on those great spring and fall days. Additionally, they are very easy to clean as you can easily move the windows.
Another advantage of this window is that they are great for weatherproofing with some types allowing four times the amount of weather stripping. This helps stop hot air from coming in during the summer and cold air from entering in the winter. However, this stripping can wear out with time and you may need to replace it.
Another issue to be careful with when choosing double hung windows is if it is not made well it can leak air where the two sashes meet. However, double hung windows are very common in homes and one of the best choices.
If your home currently has double hung windows it is a good idea to keep the same style and simply replace them when needed.
Casement Window Replacement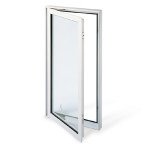 This type of window is seen mostly in the western part of the United States. They are also common in many new construction homes. This type of window has a hinge on one side so that the window can swivel, similar to a door.
The casement window is a bit more modern and offers a contemporary look and feel. These windows allow for more sun and air to get through.
Casement window replacement offers some of the most energy efficient windows that are available because when they are locked they create a seal that is extremely tight.
Additionally, they have a hinge mechanism that can be fully opened and allow more air in when ventilation is wanted throughout the home.
This type of window is great for rooms where more ventilation is wanted such as in the kitchen or in the bathroom where windows are a bit harder to reach. Casement windows can be cranked open to a full ninety degrees or just a little bit. There is very little maintenance needed to take care of this type of window.
Some of the negative aspects of the casement window include that they cost a bit more than double hung windows. There is more hardware required as well as a stronger frame needed. The hardware may need to be replaced after a bit of time as well.
Sliding Window Replacement 
Sliding windows open horizontally as opposed to vertically. In a way they are like double hung windows that open to the side instead of from top to bottom.
Most often this type of window is used to brighten a room or to frame a great view. However, there are several other advantages of sliding window replacement as well.
The sliding window has fewer parts than the conventional window, which means that it requires less maintenance. The sliding window is energy efficient and extremely durable as well. They are also very easy to use as they can be opened and closed quite easily without much effort.
One problem with sliding windows is that in order to keep them in working order you will have to properly maintain them as the tracks can fill with dust and dirt from the outside.
The windows are also very difficult to clean as they only slide from side to side and do not tilt inside.
Awning Window Replacement 
Awning Windows and casement windows are fairly similar. The main difference between these two types of windows is that while casement windows have hinges that are mounted on the sides, awning windows have hinges that are mounted at the top of the frame.
This type of window is often in the shape of a rectangle or a square and the window is often longer than it is tall.
One of the reasons that this type of window is not more popular is that there are limited placement options as well as limited airflow.
However, there are some advantages to awning window replacement as well. First, this type of window can be placed in higher places than a regular window. This allows more light and natural ventilation without compromising the privacy of your home.
Placing the windows higher on the wall will also allow for a greater amount of wall space for your art and furniture.
Overview
These are just a few of the types of windows that are currently available for replacement to you current windows. Each different type offers several benefits as well as a few disadvantages.
Double hung windows tend to be the most common type of window that is used, but the other types such as casement windows are becoming more popular.
The most important thing to consider when choosing the style for window replacement in your home is whether or not the window will fit in with the overall feel of the home that you are trying to achieve.
Got a Question?
We try to cover as much as we can in our post, but there is always more as everybody's situation is different. If you need some help we would love to hear from you, visit the Ask the Advisor page and fill out the short form.
Or check out our Facebook page and post your question right on the timeline, just "like" page and post your question and you will be notified once we answer. Pretty neat, right. Also include pictures if you have them this really help us to best serve you in our answers to your question.
Next Time
In our next post we are going to discuss window replacement options. Which options are a must and which options would be nice. Be sure to check it out.